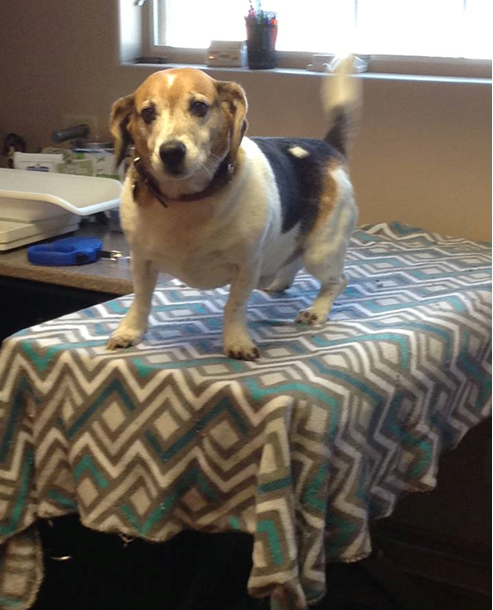 Five years ago, Roscoe woke up one morning with no use of his hind quarters. We took Roscoe to his vet, where he had been going since we got him. They told us that there was nothing wrong with him, so they sent us home. We then decided to call Canton Animal Clinic for a second opinion, and they told us to come in right away. After examining Roscoe, they decided that we should send him to Burlington, Vermont for surgery. After surgery, we were told that Roscoe would only have about 50% use of his hind quarters.
Roscoe went through two years of physical therapy and used a wheelchair in order to get around. With his left leg still dragging, we were introduced to Mindy. She started massage therapy right away on Roscoe. Considering all the pain he was in, Mindy's massages worked wonders on him.
For a dog that was only supposed to get 50% use of his hind legs back, he can now walk with no pain, he doesn't drag his leg anymore, and he does not have to use a wheelchair. He is back up to about 90% usage. He can finally act like a puppy again. We are very pleased with the work Mindy did and still does for Roscoe. We would recommend her to anyone. In our eyes, she is truly a miracle worker. Roscoe means the world to us. Mindy and the rest of the staff at the Canton Animal Clinic made it possible for him to spend his life with us. We can't thank them enough for everything they have done for us and Roscoe.