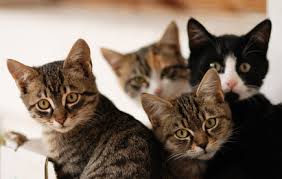 Having a new kitten is an exciting time. They are cute, cuddly, and will provide you with a lifetime of love and companionship.  But having a new kitten can be overwhelming too.  Kittens take a lot of time, attention, and care.
Just like children, kittens require a series of vaccinations to build immunity against common diseases. Our kitten bundles are aimed at preventative health care to start your cat's healthy life off right.  Purchasing a Kitten Bundle ensures your kitten will get the proper number of visits and preventative care for his or her health and wellness.  They also provide a significant cost savings to you as compared to purchasing each service individually.
Canton Animal Clinic's Kitten Bundle includes everything our vets believe your cat should have to start him or her on the path to good health.
Kitten Care Plan
Three wellness exams with a Veterinarian
Feline Distemper vaccinations every 3 to 4 weeks
Rabies vaccine
Two Feline Leukemia vaccines
Feline Leukemia/FIV test
Two fecal exams to check for intestinal parasites
One deworming treatment per visit (as needed)
First Flea & Tick preventative
Complimentary nail trim
Coupon for $10 off spay/neuter (as long as done by 7 months)
Kitten Education: nutritional counseling, behavior, socialization, parasite & disease prevention, dental care
This plan does not include visits or treatment of sick or injured animals.
This plan is not valid after 6 months of age.
The fee is due at the time of the first visit and is non-refundable, transferable, or retroactive.