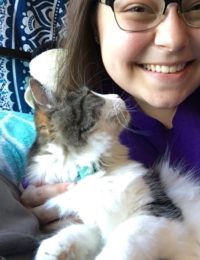 Licensed Veterinary Technician
Catch Phrase: "Cool Beans"
Bio: I just graduated from SUNY Canton in May 2020 with my associates degree. I am currently enrolled to complete my 4 year degree. I Have been around animals my entire life and live on a funny farm. I have 11 cats, 1 dog, and 3 goats. Yes, I am the crazy cat lady.
Likes and Interests: Animals, Reading, hiking, listening to music and driving.
Favorite color: Blue
Favorite Cupcake: Chocolate/Vanilla.